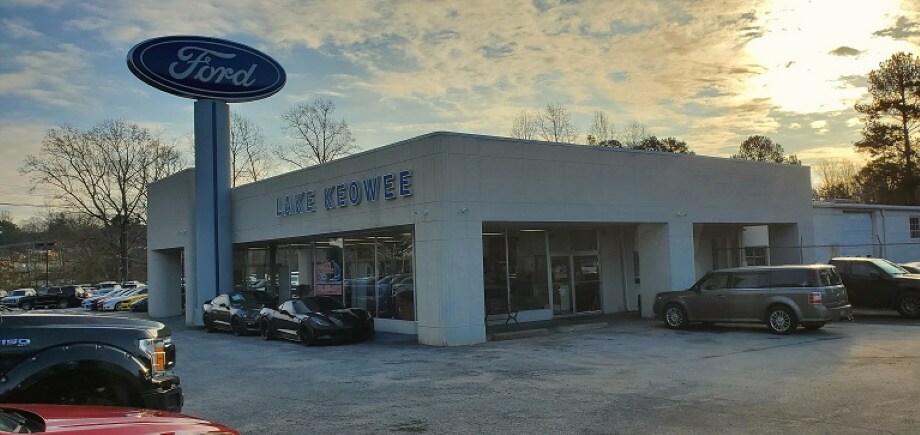 We're the Fast, Fun and Friendly Dealer of the upstate!

       

      
Here at Lake Keowee Ford we're dedicated to providing the best customer experience possible. When the dealership's staff is like one big family, you can rest easy knowing they will extend to you the same respect, compassion, and transparency you'd expect from a relative. We have many return customers, referrals and out of state customers due to our customer service and efficiency and our reviews show for it! One thing we know is that perhaps the biggest complaint in purchasing a vehicle is the time from start to finish, but here at Lake Keowee Ford we strive to keep things efficient so you can go about your day in your new vehicle.
FREE! FREE! FREE!
We offer free car washes for life for our local residents and those who may visit time to time. Not to mention every gas vehicle purchased will have its first oil change on us! If that isn't enough, when you visit for servicing we offer free Wi-Fi, Coffee, Water and small snacks.
Credit Rebuilding Programs
Whether you're a first time car buyer or have been turned down by other dealerships, Lake Keowee Ford has your back. We understand how frustrating it can be and our team strives to get you in the vehicle you deserve through our special financing options. With so many options available to us, we'll help your vehicle search come to an end.
Extensive Inventory!
We at Lake Keowee Ford understand that no two people will have the same taste in vehicles, so we try to offer a wide range of vehicles of different trims, colors, options and even accessories. Whether you want the latest tech, a certain color, or preferred engine we're sure we have the vehicle for you. We pride ourselves in knowing that we're one of the biggest sellers of F-Series trucks in our region. We also carry many special brands such as Shelby American, SCA Performance, and Saleen!
If you are a business owner, look no further. We keep you in mind as well with our inventory and have many options for vehicles to join your fleet. We are very easy and quick to work with so that you can run your business.
In-House Upfits
You just bought a truck, and now you want to lift it; maybe got a new Mustang and want to upgrade its wheels. Why take it elsewhere when here at Lake Keowee Ford we can make things a one stop shop! Bed liners, bed covers, leveling kits, lift kits, hitches, wheels, tires, you name it! Rest easy knowing you'll have all products installed by our skilled certified service technicians. You can also get many different Ford brand accessories such as hats, key chains, shirts, and more!